Congratulations! Your device is the first one ever with Tobii Horizon.

Tobii Horizon uses the Tobii Experience app, which comes shipped with your laptop. But in case you have reset your PC, you can find the app on Microsoft Store.
This will be your home in Tobii Experience. You will be presented with all the feature collection pages for your device. To view all the Horizon compatible games, click on Game.

To enable, disable and customize Aware features, click on the feature of your choice such as Power optimization. The only exception is for Digital wellbeing. You can only enable or disable those insights in the settings menu which you can access by pressing the cog wheel in the upper right corner. If enabled, go to the Digital wellbeing page to view your insights data which is collected daily and resets at midnight in your local time.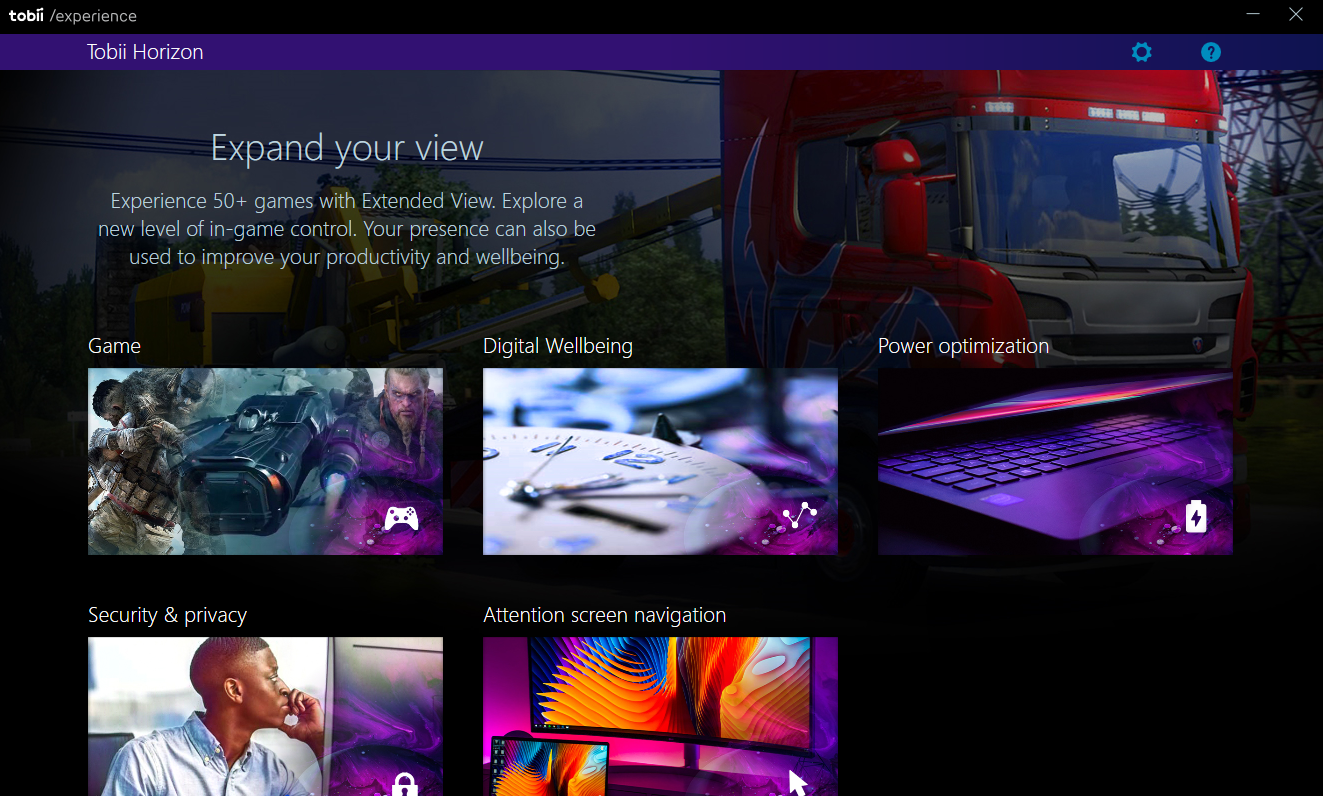 This is your settings menu which you get to by pressing the cog wheel in the upper right corner. This is where you can enable or disable the feature Digital wellbeing and where you can turn on or off your tracking sensor.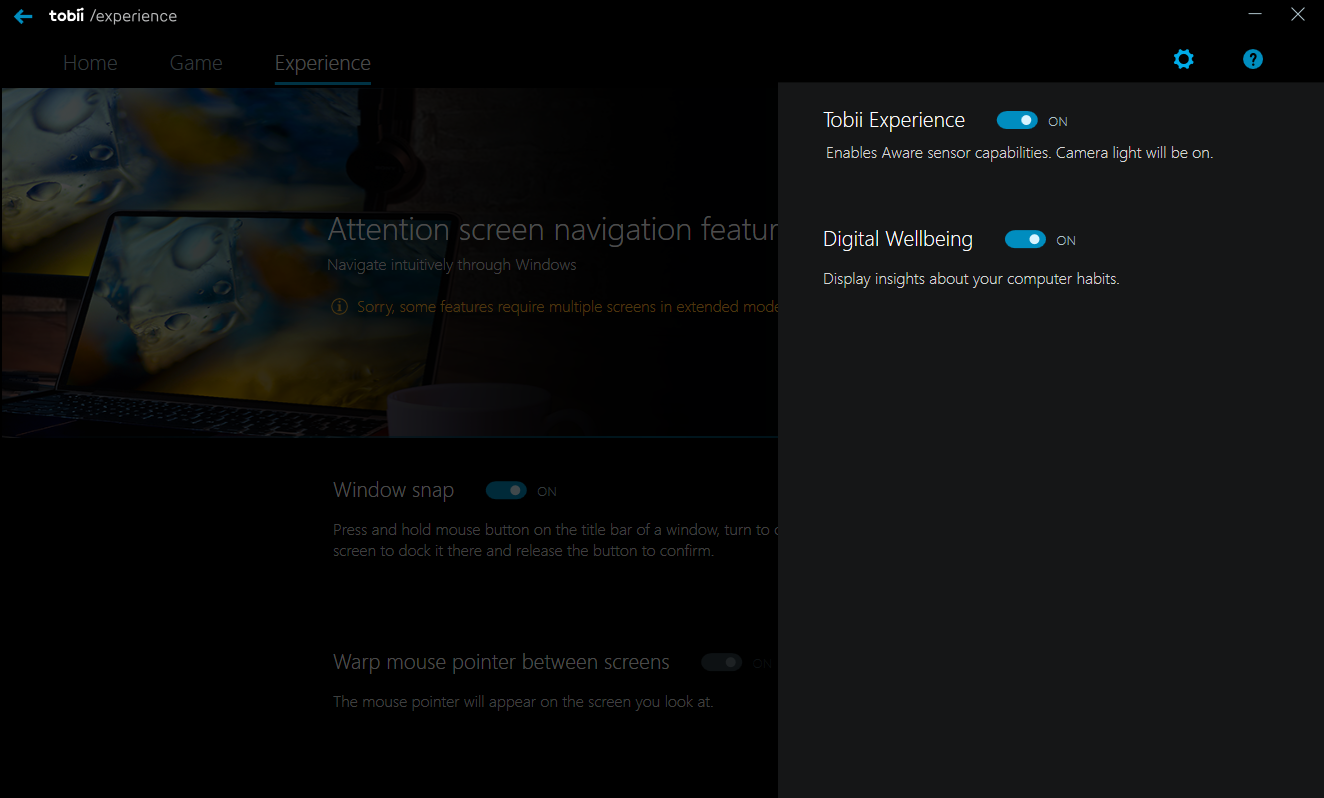 To learn more about using Tobii Experience, read more here.
Head tracking in gaming
Tobii Horizon gives you software-based 6DoF head tracking by detecting your head movements with the built-in web camera. It is currently supported in 50+ game titles, such as Star Citizen and Elite Dangerous. Experience the sensation of extending your field of view and increase your situational awareness in-game by being in control of the in-game camera with your own head movements.
Check out all the supported games here or in the Tobii Experience app by clicking on Game.
There are games that have integrated head tracking and then you will find the configuration settings in the in-game menus. But there are also games that need to be modded with Tobii Game Hub (see below) and then you will have to configure the head tracking settings in the application instead.

You can also find the supported games library in Tobii Game Hub so download it now to get started.
To learn more about how head tracking works, check out the technology behind Horizon.
To start using head tracking in games, check out what you need to get started.

Check out the video below to learn more about what you can do with Tobii Horizon on your Legion 7.
Tobii Aware features
For your convenience, you can also enjoy some selected attention computing features on your Legion 7 which can help you improve power consumption, performance, privacy, and your digital wellbeing.
Power optimization

Reduce your power consumption by letting your screen dim or lock your computer when you are not present. Sounds simple, but makes a difference.
Privacy & Security

Do not let curious onlookers see what is on your screen by using the privacy screen feature which will blur everything on your screen when you are not looking at it.
Secure your work by enabling continuous ID so it will only unblur your screen for you. When anyone else tries to use your PC at the time Privacy Screen is active, your PC will lock.
Digital wellbeing

Improve your well-being by letting Aware keep track of the time you spend in front of your screen.
Attention screen navigation

Make your life easier and let your mouse cursor snap from one window to another or move it between screens based on where your attention is.
To read more about all the settings available, check out all the Tobii Aware features here.