Neat, you have got yourself a Legion 7 which offers you both Tobii Horizon and Tobii Aware. Lets have a little closer look at what your device has in store for you.
Tobii Horizon gives you software-based 6DoF head tracking by detecting your head movements with the built-in web camera. It is currently supported in 50+ game titles, such as Star Citizen and Elite Dangerous. Experience the sensation of extending your field of view and increase your situational awareness in-game by being in control of the in-game camera with your own head movements.
Check out all the supported games here or in the Tobii Experience app by clicking on Game.
There are games that have integrated head tracking and then you will find the configuration settings in the in-game menus. But there are also games that need to be modded with Tobii Game Hub (see below) and then you will have to configure the head tracking settings in the application instead.

You can also find the supported games library in Tobii Game Hub so download it now to get started.
Check out all the customization settings available in Game Hub.
Looking to play games such as Star Citizen? Check out the offered features and customizations for Star Citizen.
For your convenience, you can also enjoy some selected attention computing features on your Legion 7 which can help you improve power consumption, performance, privacy, and your digital wellbeing.
Please note that you can enable, disable and configure these features on each feature collection page.


Power optimization

Reduce your power consumption by letting your screen dim or lock your computer when you are not present. Sounds simple, but makes a difference.

Dim screen
Your screen will dim when your presence can not be detected.
Time before dimming: 5 seconds + (customization available)
Stay awake
Keeps your computer awake as long as your presence can be detected.
Turn on screen
If your screen went to snooze, this turns on your screen when your presence have been detected again.
Privacy & Security

Do not let curious onlookers see what is on your screen by using the privacy screen feature which will blur everything on your screen when you are not looking at it.


Secure your work by enabling continuous ID so it will only unblur your screen for you. When anyone else tries to use your PC at the time Privacy Screen is active, your PC will lock.
Privacy screen
Blurs your screen to prevent others from seeing what is on your screen when you have turned your attention elsewhere.

When no input has been detected and your attention is elsewhere or your presence can not be detected, your screen will blur within 3 seconds. During those 3 seconds you will see a notification in the right hand corner which alerts you and you can snooze the privacy screen so you can work without interruption for a set amount of time.


Privacy mode (multiple options)
Normal - Blurs when your presence can not be detected
High - Blurs when your attention is elsewhere than your screen

Require Continuous ID
The screen only unblurs when you have been detected. If someone else tries to unblur your screen, Windows will put your account in lock mode.


You can also improve the recognition by capturing more facial data. You can also choose to delete your previously captured data and disable Continuous ID if you wish.


Digital wellbeing

Improve your well-being by letting Aware keep track of the time you spend in front of your screen.
Please note that the collection of digital wellbeing insights can only be disabled from the Tobii Experience settings menu by clicking the cogwheel in the upper right corner.
Screen time
Tracks the time you spend in front of your screen to help you avoid potential effects on your health. This is reset every day at midnight or if you restart your PC.
Last break
Lost track of time? No worries, check how long ago it was since you took a break. A break is only counted if you spend more than 4 minutes away from your screen.
Distance to screen
Keep a good distance away from your screen. The recommended distance from your screen is more than 50 cm.
Attention screen navigation

Make your life easier and let your mouse cursor snap from one window to another or move it between screens based on where your attention is.
Window snap
Press and hold your mouse button when your cursor is on the title bar of a window. Then turn your attention to another region, then release the button to make it snap. See regions available below.


Warp mouse cursor between screens
Lower your mouse mileage by having your mouse cursor snap to the screen you are paying attention to. Only works in extended screen mode and appears in the last known position on the selected screen.
Settings
You can turn off the Aware sensor and the features by using the on/off toggle in Settings (cog wheel in the upper right corner).

You can also toggle on or off Digital wellbeing if you don't want to collect insights about your computer usage.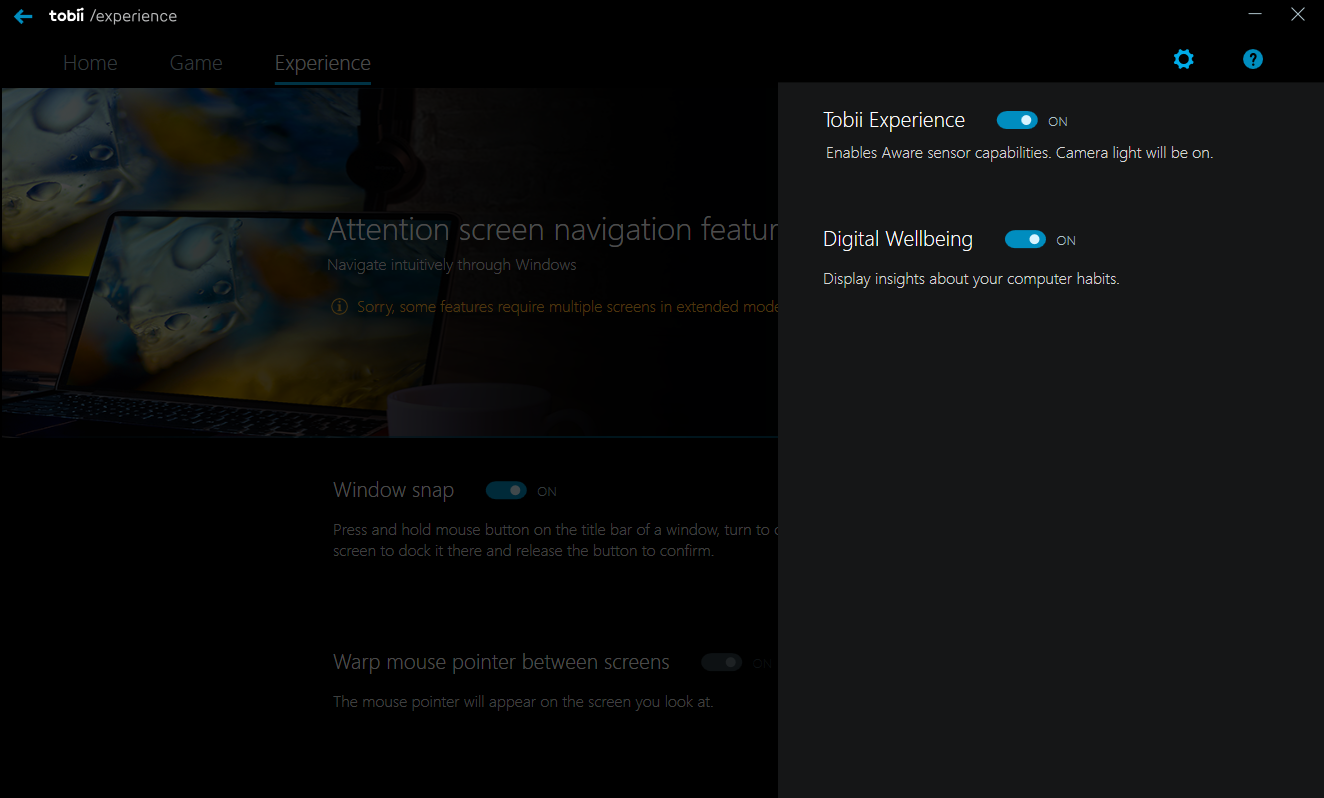 Help
If you press the question mark in the upper right corner you can find links to our Help Center (this is where you are reading this!). You can also run our troubleshooter which will create a set of logs which you can pass on to support if you decide to send in a support request.

This is where you can re-read our Privacy Policy and see that you have accepted it. This needs to bee accepted if you want to continue using the Tobii Experience app.

You can also find the Tobii Experience version number at the bottom.