The Tobii Game Hub is an add-on to our Tobii Eye Tracking software and enables head and eye tracking functionality in a selection of games. It's also a hub where we have gathered all the tracking enabled games.

You can also find more updated information on what games are supported on https://tobiigaming.com/games/. Please note that you won't need Tobii Game Hub for games that have integrated Tobii Eye Tracking directly into the game.
Installation
First, if you have not already done so, install and configure your eye tracker. You can find more information on what software or application you need on https://tobiigaming.com/getstarted.
Download the latest version of Tobii Game Hub.
Run the installation file and click through the various screens. During the installation, you may be presented with a number of pop-up boxes that you need to accept.
Once the installation is finished, please start Tobii Game Hub.
You may see a prompt to reboot your computer after the installation has completed. If so, please do so before proceeding.


Setting up games
Before Tobii Game Hub can be used to augment your games, we need to ensure that your games have written their configuration files to your computer. Do this by making sure you have started each game you want to use with Tobii Game Hub at least once before proceeding. We also recommend that you configure your controllers in the game before you start using the application, as any resetting or defaulting of the controller configuration will disable it.
Start Tobii Game Hub and select the game you want to play from the menu. It will, however, show you an error if:

The game is not installed or can't be located, in which case you need to manually locate the game's executable file using the Browse button.

OR

The configuration file, which is necessary in order to set up your game can't be located. Please make sure you have started the game at least once before trying to augment it.


You might be asked to start and quit the game once before you can use it with Tobii Game Hub.


Once Tobii Game Hub has detected the location of the folder where your game executable is located, look through all the settings to make sure it's tweaked to your liking before starting the game you would like to play with tracking enabled.


So from now on, start Tobii Game Hub before launching any game.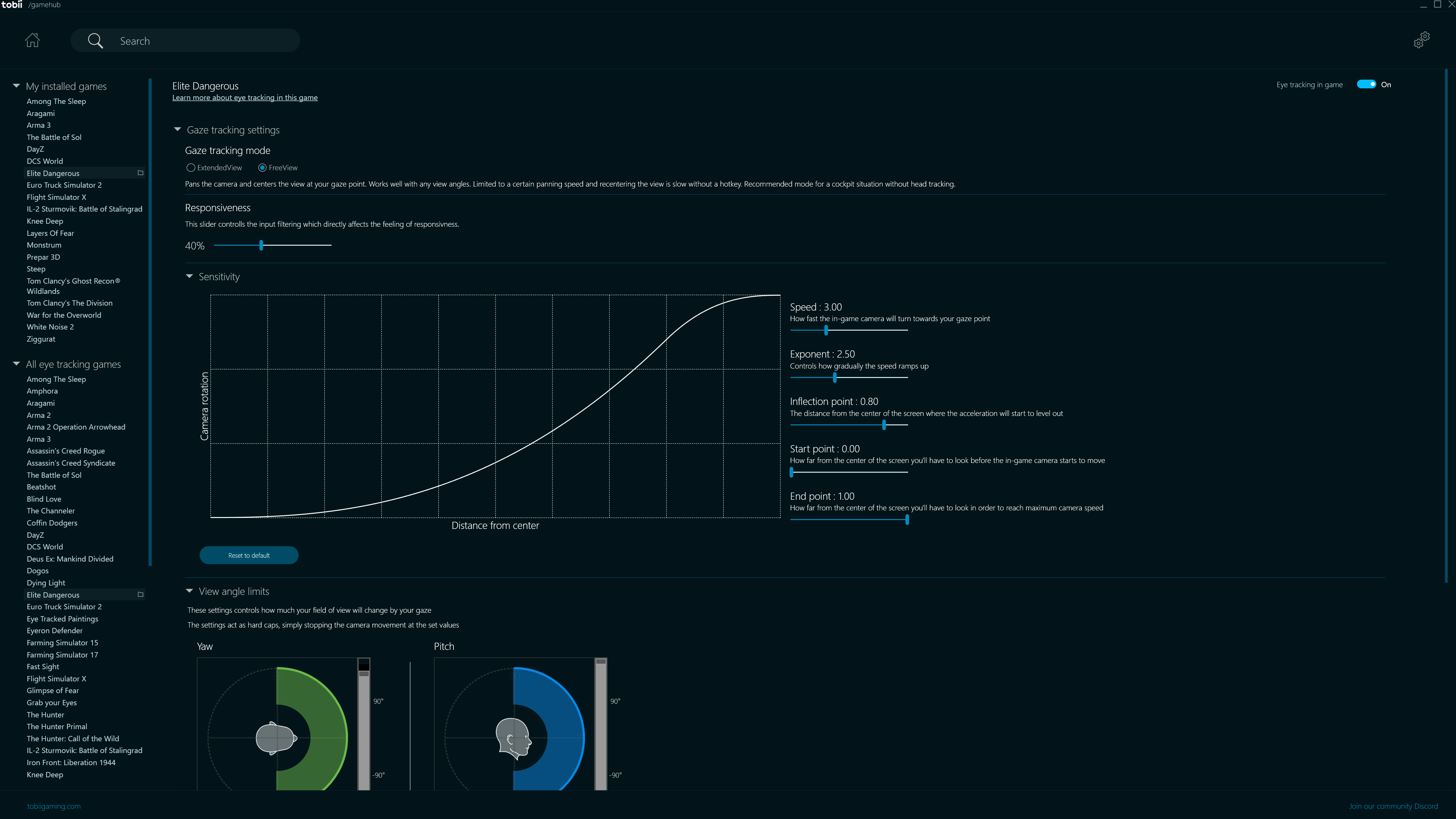 Happy gaming!