vJoy is a third party application which we do not officially support. vJoy is however used for various of games supported by Tobii Game Hub.
Download vJoy here.

Having issues configuring vJoy?
If there are any issues configuring vJoy with Tobii Game Hub or if it's not responding within the game then you can try to manually set it up by following the instructions below.
Launch Configure vJoy (vJoyConf.exe).
Make sure the Enable vJoy checkbox in the bottom left corner is checked (if it's present).
Click Reset all.
Select the number 2 tab (the number of the tab must match the value of the "/d"-switch in step 11).
Click "Add Device".
Check all checkboxes under Axes.
Set the value of Number of Buttons to 0.
Disable Effects.
Click Apply.
Close the application.
Press Win+R, type "REG ADD HKEY_CURRENT_USER\SOFTWARE\Tobii\GameHub /v vJoyDeviceNumber /t REG_SZ /d 2" and press Enter (press "y" and Enter if "Value vJoyDeviceNumber exists, overwrite(Yes/No)?" shows up).
Launch Game Hub.
Worth mentioning is if Device 1 (D1) is active (green), please make sure it gets disabled by pressing "Reset all" in the application Configure vJoy so it can clear out devices. Device 2 (D2) is the default one used by Game Hub and it needs to be the only one detected. Please see the image below to see how Configure vJoy should look like when you have a working vJoy device.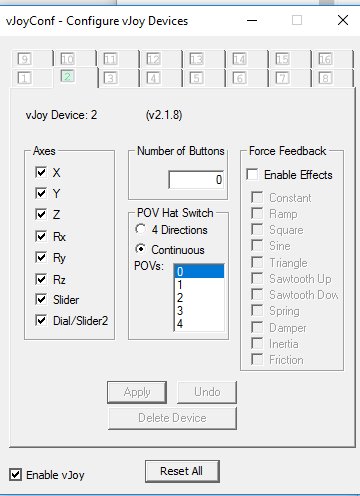 If it's still not working, please try the following.
Go to the Registry Editor. Press Win+R and type in regedit and Enter.
Go to HKEY_CURRENT_USER\SOFTWARE\Tobii\GameHub 
Check what value vJoyDeviceNumber is set to (1 or 2).
If it's set to 1, please make sure to deactivate Device 2 and instead activate Device 1 in the Configure vJoy app.