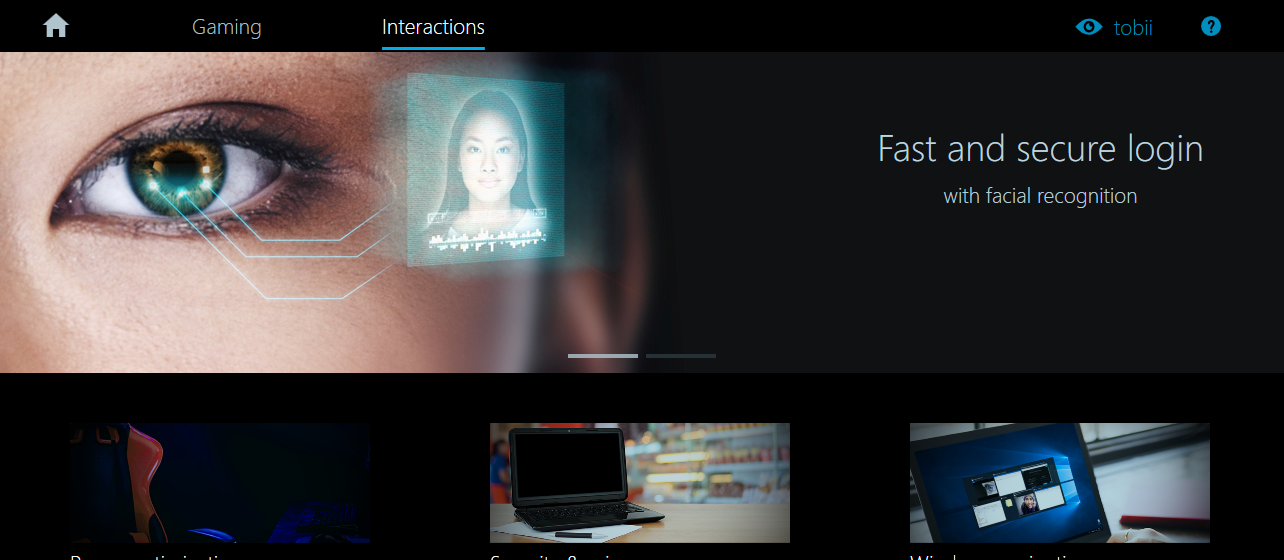 The Tobii Experience app is powered by our driver software. You can find the driver software named Tobii Experience Software for Windows in Apps and features and the main driver Tobii Eye Tracker 5 can be found in Device Manager - Software components.

This means that our driver updates also include software updates.

Please note that the Tobii Experience app has driver constraints and you need to have the driver and the driver software installed before you can install the Tobii Experience app. Read more


Tobii Experience driver 1.69 - CURRENTLY NOT AVAILABLE READ MORE

Offline installer version 4.114.0.13974
Tobii Experience app version 1.51.13388.0
Published on Windows Update: TBA
Published on gaming.tobii.com: July 8th, 2021
Main highlights
Improved

head tracking

- Less pitch noise/impact when yawing from side to side and enhanced tracking

Improved responsiveness for gaze tracking - A combined gaze signal without any applied internal filtering. This gives a lower latency and the signal is suited for gaze interaction with moving objects or when visual feedback is important to feel responsive.



Updated UI and navigation

3D head has been removed due to rendering issues

Gaze Trace can now be toggled on/off

More version numbers available in the Help section

Improved the stream tile

More clear notations for multi-monitor users


Troubleshooter now includes

Game Hub

and

Ghost

logs

Improved

connection

when coming from sleep/standby mode

Improved

connection

after finishing calibration
Known issues
Gaze trace not visible in app if app is started with no tracker connected and then tracker is connected

.

Startup statistic value and UI for dim screen timeout are not the same + wrong value for ET5 in UI

Unwanted 10s timeout of gaze highlight after using app switcher view.

Platform runtime does not find any device despite device manager shows one

Previous MW-bundle visible in App & features when after upgrade from Winter update WU to Spring update.

Tobii Experience driver 1.56
Offline installer version 4.91.0.10922
Published on Windows Update: March 21, 2021
Published on gaming.tobii.com: March 22, 2021
Bug fixes
Fixed an issue where the Attention Panel web extension couldn't connect to the software engine.


Tobii Experience driver 1.53
Currently, only new users will get this update via Windows Update.
Published on Windows Update: March 18, 2021
Published on gaming.tobii.com: X
Changelog
Updated the Log4Net open source component to 2.0.12
Fixed that empty information windows are hidden during driver updates
Updated the Platform Runtime Service to support new serial numbers


Tobii Experience driver 1.42
Changelog
New link to the feedback form
Improved error messages in the Troubleshooter report
The offline installer (Tobii Eye Tracking for Windows) now uninstalls all components
Mobalytics content updated
Improved offline installer for the driver
Bug fixes
Fixed an issue where the Train tab wouldn't be visible
Display setup and calibration is now available in all supported languages
Mouse Warp now works when multiple screens are connected