Tobii Ghost 1.13.1 introduces a new feature that lets you disable or enable the Tobii Ghost pop-up on Twitch. This toggles whether viewers are notified about the eye tracking extension being active when they first start watching your stream.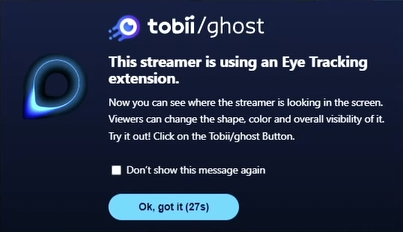 By default, this popup shows up to help viewers understand what the Ghost bubble is all about. When you first start streaming with Ghost, your audience may not know about it. We recommend leaving it on, especially when you and your community are new to eye tracking.
We're now giving you control over this pop-up. Do you want viewers new to eye tracking to see this pop-up? Then leave it on.
Do you want to hide it? Go to Settings > Scroll down and find the toggle for Pop-up for Twitch viewers, to toggle it off.