Once your Tobii Eye Tracker 5 is plugged in, Windows will install the main driver + driver software and Tobii Experience automatically. But things don't always work out the way we want them to. Check out the steps below to get some more clarity on what the issue may be.
Please note that you need to have the main driver + driver software installed before you can get the Tobii Experience app.
If you are using Windows 10 N, make sure to install the Windows Media Feature Pack.
Check the following
Go to Apps and features and check if you have the driver software installed. Look for Tobii Experience Software for Windows. If you have that, you can find the Tobii Eye Tracker 5 driver in Device Manager - Software components.


If you do not have either, use our offline installer.
Then you will see both Tobii Experience Software for Windows + Tobii Experience Software for Windows (EyeTracker5) in Apps and features.




If you are not getting the Tobii Experience app automatically installed within a few minutes now, download it from the Microsoft Store here and install it manually.

To download applications from the Microsoft Store, make sure that you have the correct time zone set in Date & Time settings in Windows.


If the installation of the app won't finish or if the app is not working as it should, please make sure that you have installed

all of the

required

Microsoft VC redistributable packages x64 and x86 (2010, 2012, 2013, 2017) and also make sure you have .NET Framework properly installed. If you have all of them, try repairing or reinstalling them.


You can also try resetting Microsoft Store by opening your start menu, type in wsreset, and press enter.
Once everything is installed, but you have an error message like the one below, please check if the Tobii Service, Tobii Eye Tracker Generic Service, and Tobii Runtime Service are running in Services. If they are, but things are still not working, try restarting the services one by one.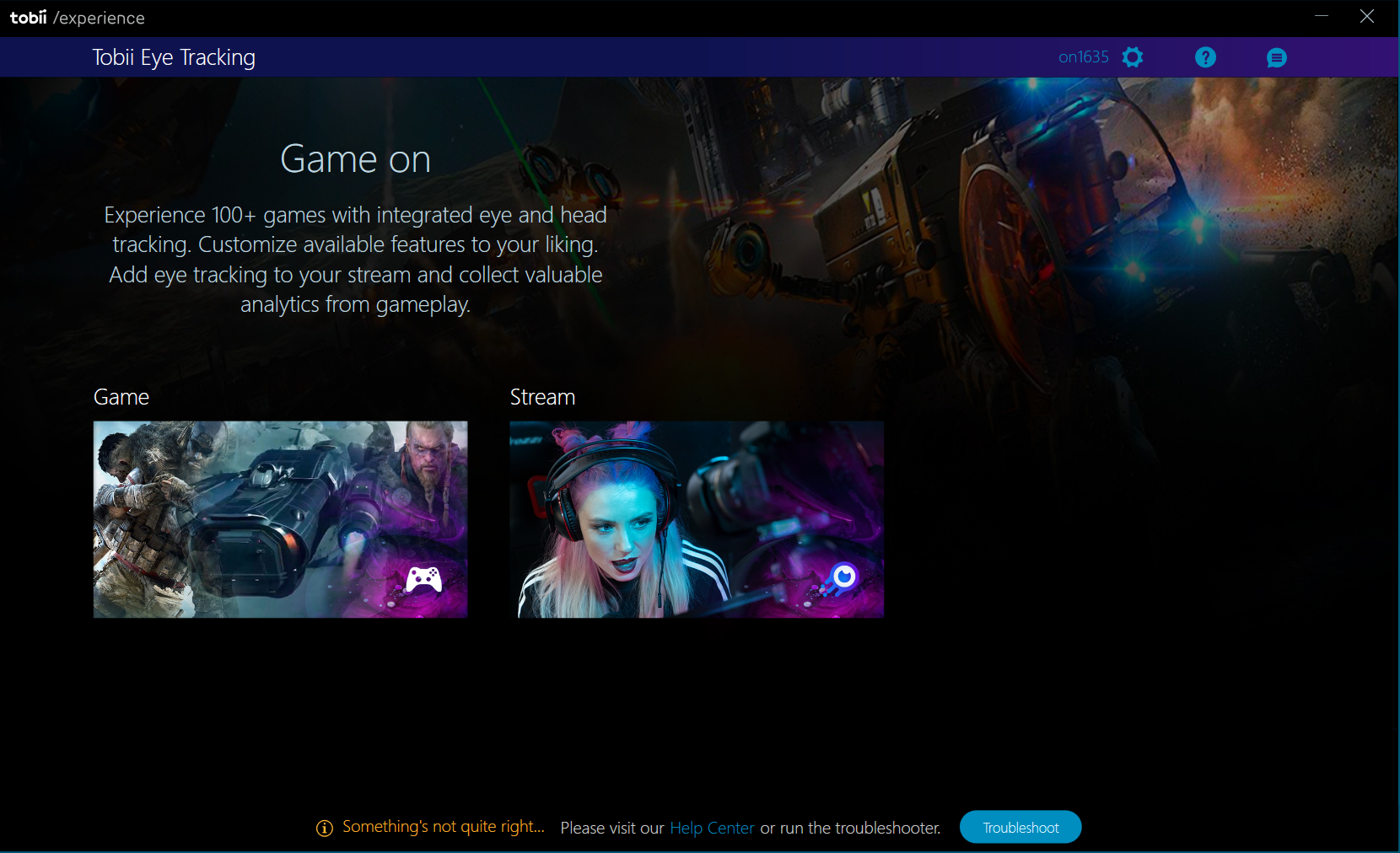 To bring up Services, right-click on your start menu icon and open up Task Manager and then go to the tab Services.


If it's set to Stopped, please start it manually and check if your eye tracker has been detected by the software


Setup issues
If you can't perform a Display setup, please make sure that you don't have a virtual monitor driver or such that could prevent our software from reading your monitor's driver. It is common that remote control applications such as TeamViewer and Splashtop create a virtual monitor driver, so to successfully do a display setup, please uninstall any applications that might conflict and then reinstall the Tobii software and do the setup. Once the setup has been done, you can install the remote control application again.


Failed or corrupt installation
If you are getting the message Already installed or you have tried all of the above, do a clean uninstallation by using the Revo uninstaller in the guide below so you can start over from scratch.
Clean uninstall

1. First install the Revo-uninstaller. It can be found here.
2. After downloading the file, launch the executable file and run through the setup.
3. Run the application once it has been successfully installed.
4. Now go to Options. See the image below.
​​
5. Go to the Uninstaller section and enable Show system components and press OK.
​
6. Now search for Tobii by choosing Company under the Search by drop-down bar. Afterward, all Tobii related software and system components will be displayed. See the image below.
​
7. Double-click one of the Tobii components to open up the uninstallation mode (this step will have to be applied to all the Tobii components that are found to ensure complete removal of any leftovers).

8. Choose Advanced scanning mode and press Scan. See the image below.
​
9. After this, all the cache-related leftovers that are found in any related registry locations will be displayed. These are possibly what is causing a failed installation.

10. Now make sure to press Delete to remove all of these before proceeding. After this has been done and the process has completed, you can press Finish.
Now repeat this step for all Tobii components.

11. After there is no Tobii software or system components left to be found through the search, your device should be completely clean from any leftovers.

12. Now try reinstalling the drivers and the Tobii Experience app.
Please note that you have to install the drivers first before installing the Tobii Experience app.
If you need assistance or any further help, please collect your log files and contact support.