Your computer comes shipped with the Tobii Experience app and the required drivers, but in case you can't find the app or if it's not working correctly, here is a short guide of how you get the app and the required drivers.
Go to Device Manager. Look for EyeChip under Universal Serial Bus devices.
Right-click and click Update driver.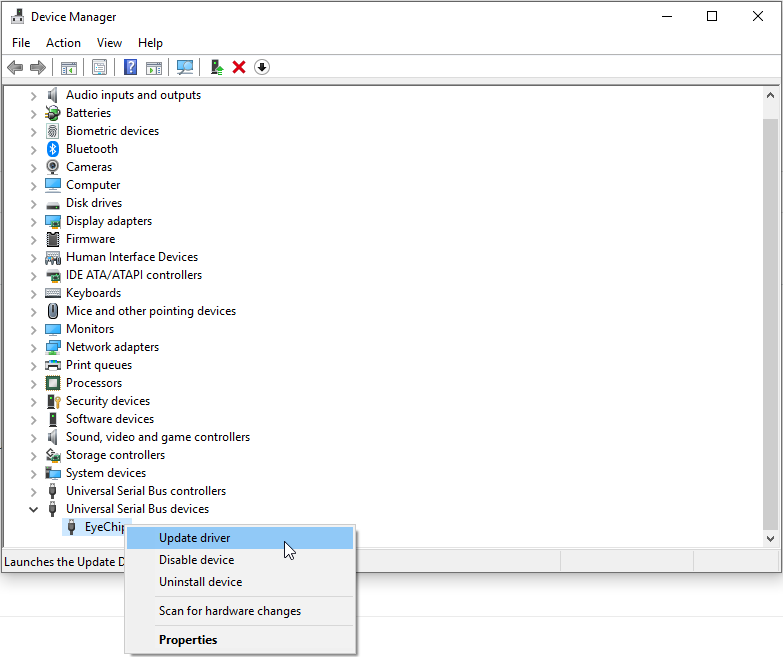 Go to Settings - Updates & Security. Click Check for updates to find all the required Tobii drivers and install.


Then search for the Tobii Experience application in your Windows start menu, if you can't find it installed, you can download it from the Microsoft store here.


If the Tobii Experience app displays the message above, check if the Tobii Service is running in Services.
To bring up Services, right-click on your start menu icon and open up Task Manager and then go to the tab Services.


If it's set to Stopped, please start it manually and check if your eye tracker has been detected by the software.

If the Tobii Service is not present at all, you have to run a separate installer. 
Go to C:\Program Files (x86)\Tobii\Deployment\DCHU\signed\TobiiMiddlewareComponent\drivers\<unique hash folder name>

You should see the following files:

The file name can also be named Bundle-Generic....


Run the Tobii installer and then start the Tobii Experience app again.
If you need assistance or further help, please contact support.